---
---
Upcoming Event
2002 Ann Arbor Art Fair
We'd love to share the fun with you at the Mars Society Booth this year! We'll be featuring the accomplishments of our own Mars Rover Team!
Set Up day is Tuesday, July 16th, from 6:00pm until 9:00pm.
Hours on Wednesday thru Friday are 10:00am until 9:00pm.
Hours on Saturday, July 20th, are from 10:00am until 6:00pm.
Note: We need a couple of extra people during the last hour to help close up the booth until next year.
Thanks in advance for helping out.
It's a lot more fun than you can imagine!!
Click here to join in the fun!
---
Upcoming Meetings
Join us for one of our monthly meetings. We generally have a talk on Mars and space exploration. After a little bit of business, hang out and meet fellow enthusiasts. Check out our meeting schedule.
---
Past Conventions,
Meetings and Talks
Meeting with Congresswoman Lynn Rivers - September 2000
Mars Society Convention in Toronto - August 2000
Meeting at Jackson Space Center - April 2000
Space Night at U of M - November 1999
Space Day - April 1999
Contraption Convention - April 1999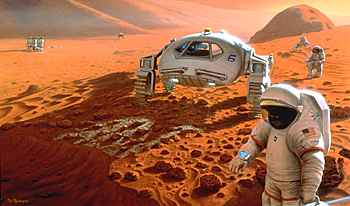 Please send questions or comments concerning this Web site to mms-web@umich.edu.
Copyright © 2000 Michigan Mars Society. All rights reserved.
Some images on this Web site courtesy of NASA JPL.