THE MARS SOCIETY - SAN DIEGO (TMS-SD) CHAPTER
"The Earth is the Cradle of Mankind, but one does not live in the cradle forever."
-- Konstantin Tsiolkovsky, 1895
---
TMS-SD MEETING NOTES FOR APRIL 8, 2002
It was a different kind of meeting of the San Diego Chapter of The Mars Society. Kelly Jernigan, Andrew Salamon, John Stone, Shannon Rupert, Dave Rankin, Gerry Williams and Bruce Lieberman were present.
SHANNON AT MDRS and the UNION-TRIBUNE
We hosted both Shannon Rupert's return from two weeks at the MDRS -- MARS Desert Research Station near Hanksville, Utah as Crew Rotation #4 Biologist; as well as Bruce Lieberman, a staff writer for the San Diego Union Tribune, came by to do a story on both Shannon's adventure and our local chapter's involvement as Mission Support for the MDRS. Bruce was here for two hours listening to Shannon's tale as well as asking questions of the group. Bruce sent a Union-Tribune photographer over to Kelly's the following day to photograph San Diego's MDRS Mission Support in action. Bruce's story was eventually published the following Wednesday.
After Bruce had gone, Shannon (who literally just got back from MDRS that same day) gave us a more detailed report on her adventure at the MDRS. She'd also brought about six rolls of photographs she'd taken that we poured over while she answered our questions.
OTHER NOTES
Because our meeting had run over three hours, we quickly discussed Yuri's Night and the X-Prize people in town for Eric Lindberg's recreation flight; our monthly SDAA Telescope Night Outreach in Balboa Park; possibly switching the date of our monthly meeting for better attendance; our Mars San Diego Web Store; the Fleet Science Center wanting us to be involved in a robotic presentation; and our upcoming ComicCon panels. We also discussed our four weeks as MDRS Mission Support, and debated whether to write up a Lessons Learned report to submit to MDRS Mission Control in Denver, but tabled this topic until our next meeting.
---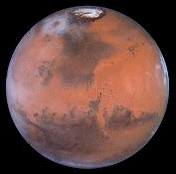 Sign the Mars Petition
Media inquiries, please contact Gerry Williams at 619.723.3456
Requests concerning this Web site should be directed to the Webmaster.